How to call Russia with 7 country code?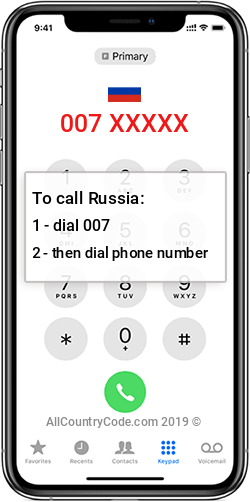 Many international country codes are utilized to identify Russia. Its phone code is 7 and is mandatory to make a call to RS if you are a calling from another country.
If you are calling Russia from another country, you have to add the phone code "+7" before dialing the phone number.

This illustration will help you call Russia (RUS) :
Get the RS Country Code (7) using our website.
Get the number you are dialing, example: 07911 111111.
Remove the 0 from begining of the number, that results on 7911 111111.
Add Russia country code and call +7 7911 111111 from your phone.
About Russia Codes
RU is also identified by ISO 3166-1 Alpha-2 and ISO 3166-1 three-letter codes which are RU and RUS. Appended to the 7 country code; these are the main Russia country codes.
ISO numeric-3 (826) (643), E164 (7) and top-level-domain (.ru) are moreover known codes for Russia.
Country codes table
Phone Code
+7
ISO two digits
RU
ISO Three digits
RUS
.tld
.ru
FIPS
RS
ISO numeric-3
643
E. 164
7
Language Codes

ru
tt
xal
cau
ady
kv
ce
tyv
cv
udm
tut
mns
bua
myv
mdf
chm
ba

Russia country codes table
Russia related countires codes
Local time at Moscow :
01:03 PM
Monday, December 4, 2023
(GMT+12:00)
Time Zones :

Asia/Anadyr
Asia/Barnaul
Asia/Chita
Asia/Irkutsk
Asia/Kamchatka
Asia/Khandyga
Asia/Krasnoyarsk
Asia/Magadan
Asia/Novokuznetsk
Asia/Novosibirsk
Asia/Omsk
Asia/Sakhalin
Asia/Srednekolymsk
Asia/Tomsk
Asia/Ust-Nera
Asia/Vladivostok
Asia/Yakutsk
Asia/Yekaterinburg
Europe/Astrakhan
Europe/Kaliningrad
Europe/Kirov
Europe/Moscow
Europe/Samara
Europe/Saratov
Europe/Simferopol
Europe/Ulyanovsk
Europe/Volgograd
Global Information about RS
Capital : Moscow
Currency : Ruble
Surface : 17,100,000 km²